I have Linux Mint 13 and Windows 7 installed on my notebook (a Dell Inspiron N5110), and I needed to do a Factory Recovery on Windows that led to me being unable to boot with Linux (the dual boot screen wouldn't appear when I turned the computer on), but I could still see the partition was there. To try to fix that, I used Test Disk to turn the Linux partition from Logical to Primary Bootable, and I guess that wrecked my computer... I got a blue screen and when I tried to reboot, I got the massage "Missing operating system". I tried to use Windows installation disk to perform a disk repair, but it couldn't find any Windows installation, like it was supposed to: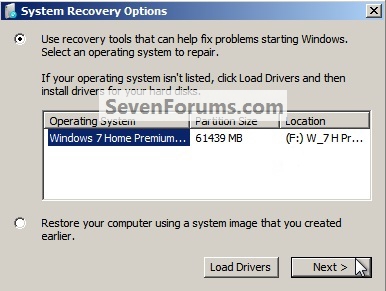 The option with Windows 7 wasn't there, the dialog box was empty... So I tried this tutorial (method one) to open command prompt and used DiskPart , but it still couldn't find Windows partition, only Linux, when typed the command "list partition". Same happened with bootrec.exe, the /ScanOs command said there was no Windows intallation...
So my question is, can I recover my computer somehow? I don't mind formatting Windows, I have it backed up, but unfortunately the same doesn't goes to Linux, so I don't want to loose that partition.