I have a desktop that I use for gaming. The specs are at the bottom. I bought my computer originally, but since then I've upgraded it a lot. Other than the case, hard drive, and some wiring.
As I said this is a gaming desktop so how come I can run GTA V at about 10-15 fps at lowest settings, while my friend who has a computer slightly better, still run the game at about 70 fps on highest settings? Not to mention I only average to 120 fps on CS:GO with no fps limit, while the same friend runs it at about 400 fps.
His build is only slightly better. His having a six-core AMD processor. Also if I'm playing anything and try to load Google Chrome it takes ages. In my BIOS it says I have 4 cores but everywhere else says I have 1 core and 1 logical processor.
I understand that BIOS is the absolute final word, and everything saying that I only have 1 core doesn't bother me. It's just that my processor is performing a lot worse than it should be. Every time I open Skype my processor usage shoots to about 80%. My friend has the same amount of RAM except his is DDR3.
Processor: Intel(R) Core(TM) i7-6700K @ 4.00GHz 4.01GHz (Quad-Core)
Motherboard: Asus Z170-A Series
RAM: 16GB DDR4
GPU: NVIDIA GTX 970
CPU Cooler: DEEPCOOL Gamer Storm CAPTAIN 120 CPU Liquid Cooler AIO Water Cooling
Power Supply: 650W Thermaltake Power Supply
OS: 64-bit Windows 10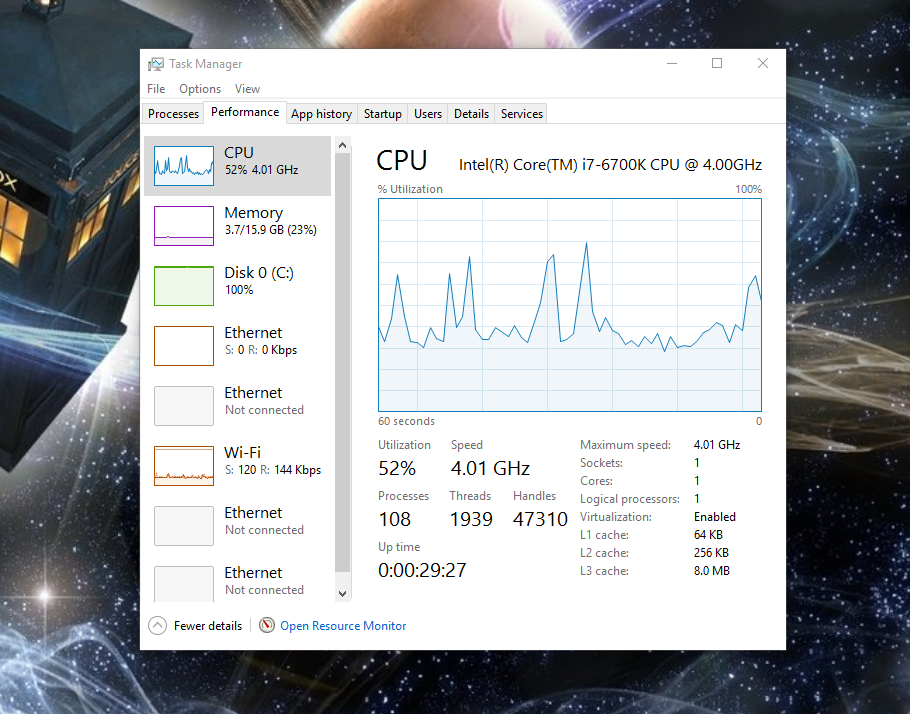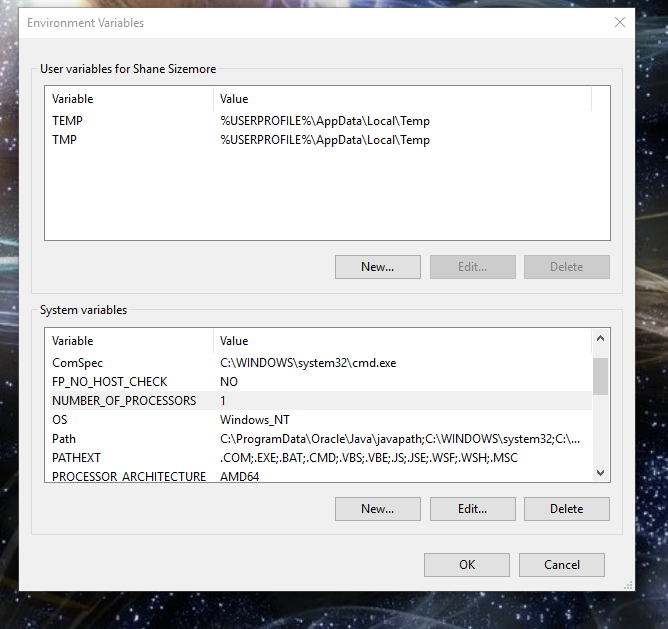 DxDiag Report:
------------------
System Information
------------------
      Time of this report: 3/2/2016, 16:31:57
             Machine name: NEVERTRUSTNANNE
         Operating System: Windows 10 Home 64-bit (10.0, Build 10586) (10586.th2_release_inmarket.160222-1549)
                 Language: English (Regional Setting: English)
      System Manufacturer: System manufacturer
             System Model: System Product Name
                     BIOS: BIOS Date: 07/17/15 16:58:14 Ver: 05.0000B
                Processor: Intel(R) Core(TM) i7-6700K CPU @ 4.00GHz, ~4.0GHz
                   Memory: 16384MB RAM
      Available OS Memory: 16314MB RAM
                Page File: 4090MB used, 28607MB available
              Windows Dir: C:\WINDOWS
          DirectX Version: 12
      DX Setup Parameters: Not found
         User DPI Setting: Using System DPI
       System DPI Setting: 96 DPI (100 percent)
          DWM DPI Scaling: Disabled
                 Miracast: Available, with HDCP
Microsoft Graphics Hybrid: Not Supported
           DxDiag Version: 10.00.10586.0000 64bit Unicode

DxDiag Previously: Crashed in DirectShow (stage 1). Re-running DxDiag with "dontskip" command line parameter or choosing not to bypass information gathering when prompted might result in DxDiag successfully obtaining this information